Can I get you to visit this link?
http://www.oo.com/safkids/detail/projectid/757894
All you have to do is vote AND like (worth 10 votes) my students' project for new technology! They only have 20 days before this project expires and if we get to #1 they will fund it for my kiddos :)
and I wouldn't mind if you shared this little button on your blog or fb... the more votes (you can vote once a day) and especially likes (since they are worth 10 votes) helps bring this project to my students' hands!
Ok on to the linky....Hello everyone!!! I'm in a crazy hectic mode right now! We are finally settled back in and the house looks like a tornado ran through it. Not to mention I'm teaching the summer readiness program this week for those incoming kinder kiddos that won't be mine this coming year *sigh*
ANYWHOOOOOOOOOOOO....
I'm joining the lovely Amanda at Teaching Maddeness for her first linky!!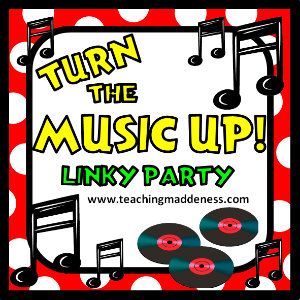 1.) Harry Kindergarten
I love Harry Kindergarten!! All of his songs are available on YouTube and are wonderful for Promethean/Smart boards!! If you've never heard of him you need to check out his YouTube channel!!
2.)
Dr Jean
Dr. Jean is amazing at putting ALL content to a tune! My students have learned everything from letters and sounds to the water cycle with her songs!! I love watching my students take a test or recall information and sing the tune to themselves! I was lucky enough to receive all of her CDs through DonorsChoose!
3.) Ron Brown's
Intelli-tunes
!
Sample:
http://www.intelli-tunes.com/media/files/audio/number-eating-alligator.mp3
I was blessed to win a giveaway at Kelley Dolling's
Teacher Idea Factory
and won these amazing cd's!! My kids absolutely love them :)
And for me!? Anything country :)
And did you know... iheartradio always is giving away a free song to download straight to your itunes?! I keep this link
http://www.iheartradio.com/cc-common/promotions/itunes/
as my homepage because the song changes ever month or so :)
Not to mention People.com gives a playlist away for free at this link
https://styleentertainment.timeinc.net/people/countryplaylist/
and again this is another homepage :) nothing is better than free :)
Totally excited to see what else this linky has in store!!
Hopefully you'll join up!